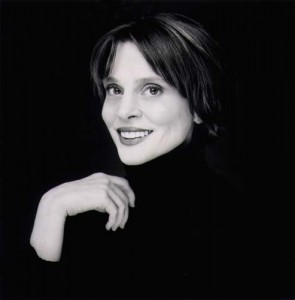 In September of 1996, I was in Aspen attending the Aspen Film Festival. My agent called me and mentioned there was a new series on the air called The Sentinel on UPN. They were making me an offer for a guest appearance, but I would have to fly immediately home, pack and fly to Vancouver to begin shooting the very next day.
I always ask to see a script before I decide to take a job. In this case, there was no time. I asked for what is called the "breakdown" description of the character. He read it to me, I laughed and said. "I'll do it". The character's name was Naomi Sandberg. She was straight out of the Sixties, full of life, love, vitality , a free spirit who adores her son and, as free as she thinks she is, she is at rock bottom a "Mom". Garret Maggart and Richard Burgi are the stars, and Garret would play my son and Richard would be a "flirtation".
This was amongst the happiest shooting experiences I've had since I Love You, Alice B. Toklas. I fell in love with Vancouver, with Garrett and all the cast and crew. Richard Burgi and Garrett are so funny together on and off camera. There is an energy from them that extends and completely lightens the work environment of a set. Everyone in the crew stepped forward to make Naomi at her best. They were incredible in their caring and support. We had to move fast and we did. When the preparation was done, I spread my wings and I let Naomi "fly". She is a part of me; she's a part of my spirit and my joy.
Today I'm having so much fun watching Richard Burgi on Desperate Housewives.


The Sentinel on IMDB