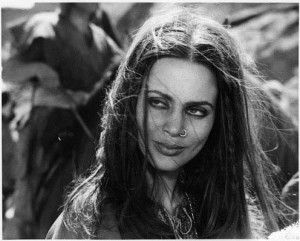 In the summer of 1969, I was in London making a film for Columbia pictures called The Buttercup Chain. My agent at CMA, called me and asked me to meet with John Frankenheimer. He was preparing a movie to be shot in Afghanistan and Spain, called The Horsemen starring Omar Sharif.
He had shown interest in me to play the primitive Gypsy woman opposite Omar. I thought how odd, as I had only appeared in films so far as a very "60's" hippie girl. We met at Claridges, and he expressed enormous enthusiasm and confidence that I was perfect to play this "wild" role. He wanted to send me immediately to Afghanistan where he had already shot second unit photography, so that I might actually absorb the tone and feel of the country and its tribal people. Afghanistan, at the time, in 1970 was a monarchy.
I was soon on my way to Kabul, Afghanistan as a guest of the King, and thereafter on a journey into the south to visit and stay with the Koochi. The Koochi are an "aristocratic" tribal people who welcomed me with exotic drums, dancing, and a feast. These people had never seen such a western woman, unveiled, in man's pants, and so joyful and expressive that she was kissing and hugging their camels. I stayed with them for a week, and with an open heart absorbed them, their behavior and culture. My only challenge was to diplomatically refuse their generous offer of a Koochi husband. The character of Zereh, in the film, was, in fact, not as much of the temperament or expression of the Koochi, but more a Jat which is a much less respected gypsy. A more deceitful and desperate life is lived by the Jat.
Soon I returned to Madrid, to begin principal photography on The Horsemen, which took me to various locations all over Spain. Working with Omar was a delightful experience. He is a courtly man and tremendously generous. He was very nurturing and loving during our relationship. To prepare becoming the character of "Zereh" I immersed myself in her look and behavior. After makeup in the morning, I loved to roll in warm dirt. I pierced my left nostril in a Madrid jewelry shop. My hair was now black, and my eyes painted in kohl. Making The Horsemen was an exciting life and film experience.
 
 
The Horsemen on IMDB