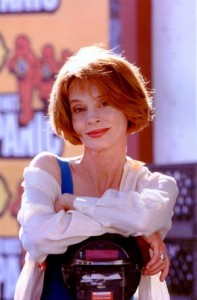 Leigh Taylor-Young in her current role as a spokesperson for Women's Health Month (October) exemplifies the statement that in order to talk the talk you have to walk the walk. Since becoming visible as a successful television and movie personality in the mid-1960s she has volunteered her time to numerous organizations devoted to protecting our environment, world peace and educating individuals and groups to settle differences through consensus rather than conflict.
Committed to the concept of self-managed natural health since the 1960s she continues to pursue new vistas in health fitness and alternative forms of healing and consciousness. Leigh deeply believes that body, mind and spirit are intertwined.
Leigh began her professional career on Broadway playing the ingenue lead in Three Bags Full, directed by Gower Champion. She was subsequently cast as "Rachel Wells" in the landmark television series, Peyton Place. She has just completed one year starring as Elaine Stevens on Aaron Spelling's Sunset Beach.
She was a member of the powerful award-winning series Picket Fences, playing "Rachel," the town's mayor. She won an Emmy for Best Supporting Actress in a Dramatic Series and received a Golden Globe nomination.
Leigh has also recorded a number of creative visualization and meditation audio tapes, including the Search for Serenity series and many narrations for documentaries. She has produced, narrated and is developing a series of tapes for her own company.
Her varied pursuits take Leigh to many areas of the world. She is active in support of world peace as a special advisor in Arts and Media for the United Nations Environment Program (UNEP) as well as the Institute for Individual and World Peace.
Leigh has one son, Patrick, from her marriage to Ryan O'Neal. Patrick is a sportscaster in Los Angeles, California. Leigh currently resides in Los Angeles.
We asked Leigh to comment on her personal approach to natural health and on Women's Health Month.
She replied, "I require four things every day for the well being of my health: meditation, physical movement, nutrition and supplementation plus lots of water. To me the most important relationship is the spirit. There is a mutual relationship to nurture the spirit every day and to take good care of the body because the spirit lives in the body. To have the power of the spirit flow through, you want it to be in a home, a temple, a body that fills the wellness so that the overflow can manifest goodness and goodwill."
Photo by Gary Webster – Click to enlargeShe continues, "As I age I find it is important to understand the changing needs for supporting my body through diet and supplementation. I am presently exploring the natural supplements which give additional support to my brain, my eyes and my liver. A diet that supports optimal assimilation and elimination is a priority. Organic foods whenever possible, especially with regard to animal protein, is an imperative. It basically comes down to a lot of reading, listening, asking questions and most importantly a positive relationship with a health food store you trust."
"I think it is just incredible to have a designated month where the health field focuses on women's issues, says Leigh. While Women's Health Month is a relatively new concept, my involvement in women's health is not. I have been deeply interested in alternative health since the late '60s and have pursued just about every aspect of it."
"As women we are experiencing a unique period in the history of Western culture, particularly those of us born on the cusp of or during the baby boomer generation," Leigh adds. Our grandmother's life expectancy at the beginning of the century was 55 years. Today many of us will live to see our children become grandparents. Fifly-five is now the beginning of mid-life. We are excited and intrigued by the prospect of an additional 20-40 years of healthy, productive life. Women's Health Month has been initiated to establish a national dialogue around the important issues, challenges and alternative natural approaches to optimum health, which will help to assure us quality for this added quantity of life."
She says, "Actually we are entering into this experience with fairly sound groundwork in the exploration of alternative arenas. The '90s have seen a virtual explosion in recognizing the benefits of nutritional supplementation and natural foods to establishing and maintaining good health. In the '80s we discovered exercise and in the '70s, coming out of the '60s we became involved with herbs, yoga and alternative paths of approaching religion through spirituality and meditation."
"All of these experiences form a solid foundation as we address the women's health concerns that challenge us as we enter a new millennium. We are in the midst of an overwhelming epidemic of breast cancer. We are dealing with how to cope with menopause, exploring alternative therapies as opposed to taking chemicals or horse urine, which is a rather startling concept to me. Fortunately, there are other viable options."
"How do we protect our bones? How do we protect our hearts, our skin, our eyes,our brains? We have an enormous thirst for information which has moved these subjects to the forefront of the collective conversation. "
"Women's health is, I feel, one of the great adventures taking place in today's society. Now we can not only avail ourselves of the traditional Western medical model, but to homeopathy, to herbs, to chiropractic, to acupuncture, nutraceutical therapies and other recognized systems of healing available to us. Women who become involved in managing their own health can look forward to being vital and productive for decades past menopause. Recent statistics indicate over the next 30 years the 85-plus population will become the fastest growing segment of our society."
"I also believe it is imperative we understand that women's personal heath issues and mankind's global health issues are critically affected by our environment," Leigh continues. "While we can influence the diet, exercise, philosophical/meditative, supplemental, sleep habit, employment and community involvement aspects of our lives, we are at the mercy of the water we drink, the air we breathe, the second-hand hormones we ingest, potentially carcinogenic oils, preservatives and pesticides in our food, the unknown long-term impact of genetically altered fruits, vegetables and legumes and a litany of other concerns.
"For instance, many women wear make-up everyday," Leigh says. It's part of our joy, its a dress-up thing we never got over. We do it in different degrees and, of course, for myself, I'm in a business where it is required every day. Well, recently I was shocked to learn that some of the products I wear on my lips may contain color dyes that are toxic and even potentially carcinogenic. And that some of the chemicals in the eye shadows, foundations, skin and hair care products could also be potentially dangerous both topically and if they are absorbed through the skin — the largest organ in our body. I am now on a quest to find out everything I can about those scientifically named ingredients on the labels of the products I have been applying to my skin, eyes, hair, lips and nails, as well as my deodorant."
She states: "Fortunately through my association with Women's Health Month and one of its major sponsors, Jason Naturals, I have found there are safe alternatives to mass market cosmetics available in the health food stores. Products which incorporate wild yam, progesterone, vitamin C and other woman-friendly ingredients, even a wonderful breast self-examination kit."
"We are moving into a time where we are exploring so much more in women's health, the vistas are so much wider and it is a much more exciting exploration. There is a lot of support out there. However, I believe you are given a responsibility when you are given a body. It is terribly important for each women to take charge of her own health. She needs to be a sleuth in behalf of her own body, be a partner with her doctor and be her own consumer advocate in the food she eats and products she uses and medications she takes."
Leigh concludes: "I love seeing people be well so they can live more loving, joyful, productive lives. To me if you have taken care of yourself first you are automatically going to be better to other people." Hopefully this section in total health and the other events of Women's Health Month will inform, educate and inspire you to explore the natural alternatives."
 
 
Learn More About LTY and Health / Spirit Press