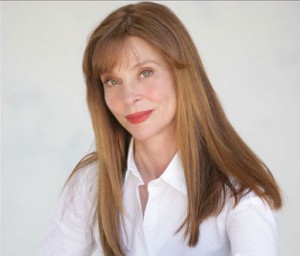 Leigh Taylor-Young doesn't want her granddaughters to see her — on television, that is.
One of the stars of the popular NBC daytime series Passions, Taylor-Young prays that Sophia, 7, and Veronica, 4, won't turn on the TV one day and discover that she's an actress. "I want them to experience me as a loving, caring human being, not as a celebrity," says Taylor-Young. "Their mother, Rebecca De Mornay, is also an actress, and she feels the same way I do. This whole fascination our society has with celebrity is just odd. We want the girls to know us as we really are – our authentic selves."
In typical soap opera fashion, the character Taylor-Young plays on Passions, Katherine Crane, while appearing to be 50-something, is a great-grandmother involved in love triangles who recently returned from the dead — something probably a little more dramatic than her grandchildren need to see. The role brings her back to the medium that made her famous in 1966, when she was an ingenue in the then-risque series Peyton Place.
Born to a diplomatic family in Washington, D.C., Taylor-Young was an economics major at Northwestern University, but soon changed to theater. Her post-college career took off quickly with Peyton Place, and then her first major role starring opposite Peter Sellers as the flower-child heroine of I Love You, Alice B. Toklas. Other film credits include The Gang that Couldn't Shoot Straight with a then-unheralded Robert DeNiro, Soylent Green with Charlton Heston, Jagged Edge with Glenn Close and Jeff Bridges, and Looker with Albert Finney. She's also done theater and appeared in such TV series as Dallas, and Picket Fences, for which she won an Emmy.
While still in her early 20s, Taylor-Young married her Peyton Place co-star Ryan O'Neal, probably best remembered as the star of the 1970 blockbuster Love Story. Married for six years, they had one child, Patrick, now a sportscaster in Los Angeles, and he and De Mornay (now separated) are the parents of Sophia, 7, and Veronica, 4. The kids usually live with Patrick, so Taylor-Young gets in plenty of grandmothering time.
"Ryan and I don't see each other very much, but we have an extremely warm relationship," says Taylor-Young, who lives outside L.A. "The girls get different things from each of us. They love to visit his beautiful home on the ocean, while I provide a garden with tea parties and orange trees. I love to get silly with the girls. I remember reading that for cats everything in life is a toy, and it's just as true for small children. Playing with them also puts me in touch with my own youthful nature – they pull me into their world. Sophia is poetic and artistic, while Veronica is the exact opposite. She doesn't know what boundaries mean-she's like a little force of nature. In fact, I'm often reminded that there's a certain wisdom in having children in your 20s. When I go home from baby-sitting for six hours, I completely vegetate because every part of my being has been used to the maximum.
"Children don't have those conditioned filters yet-you should be like this or that," she continues. "I may play a bird game with Veronica, and suddenly we're focusing on the birds in the sky. Or perhaps I might say how alive the trees are, swaying with the wind, and the girls pick up the thread and invent a whole new game. I find that sense of discovery endlessly delightful. When I see the spontaneity of their little spirits, I always have an intake of breath. They're unfolding like a book, and you can't wait to get to the next page.
"Being a grandparent can also strengthen your relationship with your own children," she says. "And it's funny how the cycles of life play out. For instance, when Patrick was young, I'd say 'tie your shoelaces.' Now he says, 'Mom, for God's sake, tie your shoelaces.'
In an earlier chapter of her own life, Taylor- Young's grandfather played a very important role. "We came from a farm in Kansas," she recalls. "My mother was a single working mother, attempting to finish her Master's at American University My grandpa, Carl Taylor, was a remarkable man. He developed the field of rural sociology and worked in a top position at the Department of Agriculture.
"I called him Toots, and we would often talk about the world around us, even the universe. Having been a farmer himself, he probably saw in me fertile soil. He recognized my curiosity about everything. I was not very 'at home' with the appearances of things. I wanted to be told the truth. Grandpa gave me books to read that stretched me way beyond my school reading, and I couldn't wait to sit down with him after I'd finished a book. He never told me what to think. He would simply question me, and then listen with great interest. Through him, my early influences were Gandhi, Roosevelt, Dag Hammarskjold, Einstein, Jesus, Emerson, Thoreau and Adlai Stevenson. These were unusual childhood idols. I absorbed Grandpa's humanitarianism, and he made me very aware of the interconnectedness in life.
"When I was 11, my grandfather went to India for a year to work for the Ford Foundation. I missed him terribly. When he returned, he gave me The Autobiography of a Yogi. This book was like a bomb to my young mind. It opened me to things of a spiritual and mystical nature, which I somehow sensed to be true. This book and others, and the many talks with Grandpa, set the stage for my continued curiosity about life. He was my best friend. To this day I miss him and often long for our heart-to-heart chats about life."
From the ages of l7 to 23, Taylor-Young says she was very focused on her career, but "when my marriage to Ryan ended, I began to reexamine my life. I was famous and financially secure, but I was unfulfilled. By late 1969, I was in the full throes of seeking and questioning. It was not a comfortable state. I gave up a lot to follow this inner urge, but to me there was no choice. I entered the '70s very open and ready for change." A few years of homebody time devoted to her second marriage was followed by a resurgence as a more mature actress, whose career has flourished ever since.
Taylor-Young has also become a tireless spokesperson for many not-for-profit organizations, including the Better World Society; Hands Across America, the American Cancer Society; and the Institute for Individual and World Peace. She's a board member of the Heartfelt Foundation, serving people in need, and The EduCare Foundation, a youth leadership training program, and she represented the United Nations Environment Programme (UNEP) as the keynote speaker in Nairobi, Kenya, for its 20th anniversary ceremonies. She's also an ordained minister in the Movement of Spiritual Inner Awareness and is the voice of the "Search for Serenity" series of audio meditations for "The Course in Miracles."
Taylor- Young's fulfilling life today clearly has its roots in those early years of love and encouragement from her grandfather. It also makes her reflect on how much the role of grandparents, especially women, has changed over the years. "I remember my grandmother, with her white hair and ample bosom, sitting in a rocker on the porch and shelling peas," she recalls. "It was like a scene from Wizard of Oz. Now I'm about the age she would have been then. And I lead a very busy and active life. On Passions, I have to memorize 20 to 30 pages of dialog a day; as much as the 20-year-olds. I've learned a lot on the show, and I hope to continue growing as an actress. I also work out every day. I'm involved with different organizations as a volunteer. I'm studying for a doctorate in spiritual science. I have wonderful friends and a great family. And, in addition to my granddaughters, I have eight godchildren, who keep me running.
"Growing up, I had no real role model who matches up with current times. Most grandparents were stuck in a cultural idea of what they should be. We boomers have shattered that stereotype completely and are redefining it. I've been liberated by technology and dishwashers. Today I have a lot of contentment, and, in all the ways that count, I'm still 20 inside. I'm a free spirit in a body that just happens to be older."