On New Year's Day Peace Awareness Labyrinth and Gardens was set up, decorated in finery (as if it couldn't get more beautiful here) and ready for several hundred people – ready to participate in a "Resolution Spiritual Spa Workshop" followed by the Wedding Celebration of PALG's Beloved friends, John Morton and Leigh Taylor-Young. The theme of this workshop, coincidentally or not was: Commitment, Devotion, Dedication, Consecration and Celebration. I kid you not, this was the theme before the Wedding Celebration was scheduled! Participants explored ways to deepen their dedication to themselves, their Higher Self and God.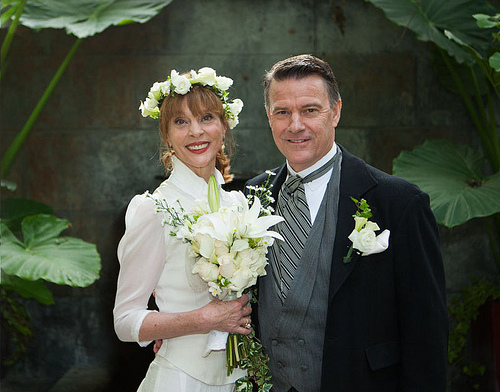 Here is the video of the entire Spiritual Spa Workshop – enjoy!
The Wedding Celebration and Consecration followed. As John and Leigh betrothed and exchanged their vows, they spoke intimately and movingly about their commitment, their journey, their dedication to one another. It became an affirmation, an inspiration and a beloved vision to all.
Here is the video of the ceremony.
One guest wrote, "I marvel at Leigh's ability to create what is in her heart. I receive her blessing as my own, for what we behold we can become. I am grateful to witness the ways in which I am one with God."
Open Letter from PALG
Dear Leigh and John,
Thank you for leading, inspiring, showing us the way as you walk through your challenges and joys sharing your love and heart with God, yourselves and us all. Your demonstration of strength, persistence, courage, unabashed loving and joyful living is a gift.
God bless you both.
Your friends at Peace Awareness Labyrinth & Gardens
And their first dance was a "first dance-walk" on the labyrinth.
Here's the wedding photo album…
A New Year and A New Marriage: Resolution Spa Day with the Marriage of John Morton and Leigh Taylor Young
A great article about the wedding written by Sherie Wylie, photos by David Sand