The Language of Animals: 7 Steps to Communicating with Animals
by Carol Gurney. Foreword by Actress Leigh Taylor-Young. Published by The Bantam Dell Publishing Group.
I first met Carol Gurney when I was having trouble with my beautiful white Persian cat, Quan. Quan was unhappy with my choice of boyfriend and let me know by urinating on his clothing! I had heard of Carol through a friend, so I called her for a consultation. That first meeting was extraordinary. Carol sat quietly with Quan, who remained very peaceful, looking almost as if she were sleeping. Amazingly, Carol communicated a stream of accurate information, things she had no way of knowing, and helped us find a solution to the problem. I knew right then that Carol had a special gift, and she sparked in me my own quest for heightened awareness and communication with animals
Every relationship I've had with an animal since childhood has been a primary relationship for me. They have added quality to my life, and I feel honored and blessed by their presence. After working with Carol, learning her HeartTalk ProgramSM, and now reading this book, Straight from the Heart, my relationships have deepened even more. I always knew at

some level that animals and humans shared some type of communication, but I didn't realize the depth of animals' perceptions. After Carol's first session with Quan, I began to deal with my cat with
more awareness and respect. It wasn't that I hadn't respected her before that, in my heart, but I was now beginning to understand just how much animals have to give us.
A word I take deeply to heart from Carol and her work is intention. It's a word I've used often in my awakening to communication with animals. I'd always "talked" with Quan, even before the misunderstanding with my gentleman friend, but I now added my intention of openness, the intention that she actually did understand me. This helped me move forward in my journey. Quan also helped me, although I didn't realize it at the time. I thought I was experiencing my own epiphany, but I became aware that she was teaching me that if I surrendered judgment or closed-mindedness and approached it with willingness and humility, then we would definitely communicate. It worked. I actually felt that I entered her frequency, like finding a wave-length on a radio. We are wired differently, animals and humans, but there is a place you can find this "frequency," where there is pure communication.
Carol has worked with my animals and me many times since that first meeting, and every experience continues to amaze me. Developing my own intuitive language with animals has enlightened my awareness about how these relationships can play a bigger and more fulfilling role in life. We tend to take animals so for granted, yet they can be our teachers and our healers. For me, my cats (I added beloved Lucky to the family along the way) have always offered me the opportunity to slow down and quiet my world so that I can listen to their wisdom. If I get busy at my desk for too many hours, Lucky will walk across my computer keyboard, plop himself in front of me, paw at my pen, and say it's time to stop. I always listen but, to be perfectly honest, I don't always follow their advice. The biggest gift we humans can give ourselves is to listen, and not assume that animals are limited in the ways we've been taught. They are boundless in what they have to give, in the richness of their communication, if only we stop and learn to listen and commune.
As for animals being healers, let me tell you about my adopted Palomino draft horse, Charlie, who pulled carts full of children at Disneyland for twenty years. When he became too old to do his work anymore, he went to live at Windermere Ranch in the Santa Barbara Mountains. Here he was lovingly cared for by the staff and many visitors. I "adopted" him by participating in his care.
Unfortunately, I never had a strong emotional relationship with my father; I never had a sense of being cherished or safe in ways that stabilized my emotional development. I tell you this about myself, because one day, when I went to the ranch to groom Charlie, I received the greatest gift from him. As I stroked and brushed him, Charlie just stood there good-naturedly, eyes halfway closed, yet I felt a profound and enduring sense of patience and love eminating from him. This shouldn't be surprising, given that this horse pulled children in carts for twenty years, but I was struck by his loving energy at the core of my being. All of a sudden, I felt as if I'd found the qualities of the father I had missed. Everything I'd wished for in my life from my father was manifesting at this very moment. I'd never known these feelings, or that I could experience them. Charlie's energy enveloped me and offered such unconditional safety and love that it was palpable.
I leaned into Charlie, weeping, and he just stood and held for me as I cried on his shoulder. It was one of the most amazing experiences and revelations I have ever had. When I left him that day, I asked if I could hold his head in my arms, and, as I gently put my head to his, I whispered to him that he was the father I had never known. I thanked him for this beautiful gift, and reminded him that he would forever be with me.
I stayed connected with my dear friend Charlie until the day he couldn't get up any more. All the horses on the ranch came around him and held for him as he had for me. They circled Charlie as he gently left this life. Although he may be gone, this wise, patient teacher left a legacy of love and healing.
If you have ever wished for a deeper connection with your animals, you have come to the right place by reading Straight from the Heart. In this book, Carol gently and kindly awakens us to an awareness of our connection with animals. She gives guidance and provides practical, easy-to-do, and confidence-building exercises. She covers every base of animal communication, from choosing a new companion to the death of an animal.
The special chapter on death and dying explains every step of this painful process: how to tackle the practicalities, what your options are, what you can do to treasure your animal during the dying process and after, and, of course, how to communicate along the way (and afterwards). The gift she gives in this chapter is an opportunity to be with each emotion during the dying process rather than just be overwhelmed. The hands-on advice, the enlightening information, and the stories are so profound they truly move you to tears.
I buy a lot of books about animals; I love them. Straight from the Heart is the first book that tells animal lovers in the simplest way how they can work with the love they have for their animals, and how they can benefit. As you'll read, your heart guides you, and Carol is truly guiding human hearts to the greater benefit. Nobody else I'm aware of has ever done this.
I have implemented every aspect of the book into my relationships with animals and with humans. Every single exercise, every anecdote, every lesson she teaches can be applied across the board to enriching our relationships with all living beings. I think of Straight from the Heart as a manual for living, because by reading it we learn to know and love ourselves better as we learn to communicate with animals. I believe God has given Carol a unique gift, but she'll tell you she's simply reintroducing us to the language of the heart—our own intuition.
As you read and learn from this book, let your heart guide you. Let the animals teach and inspire you, and let yourself be open to all possibility.
~ Leigh Taylor-Young
Carol Gurney is internationally respected as one of the foremost experts and a pioneer in the world of Animal Communication. For over 23 years she has traveled the globe teaching people how to connect with our animal companions and the first to offer a fully comprehensive training program in this ever-growing field. Leigh is on the board of The Gurney Institute of Animal Communication.
 
 
Learn More About The Gurney Institute
 
---
Lucky, my cat friend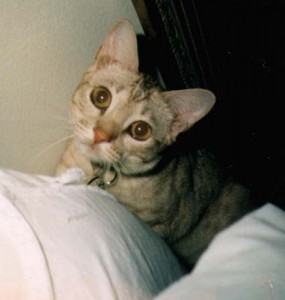 A week to the day after my mother died, my lovely white Persian "cat-friend", Quan Yin, disappeared from my home. It was devastating. Too much loss. A week later a dear friend, who like me is a tender lover of animals, encouraged me to get another cat. I was sad and very reluctant. When you lose what you love it's hard to imagine anything in its place. I agreed, however, to just "look". I went to the same place where I had bought Quan Yin some years earlier. I looked around, and nothing interested me. I saw a cage in the back of the store. In it was a short-haired, tiger-marked cat. As I approached, it reached its paw out toward me. I had always responded to long-haired cats. This one was small, sleek, with short hair and definitely not fluffy. I asked about the cat. Evidently he had been there nine months, no one had wanted him, and the owners were concerned because soon he would have to go to the pound.
They loved him, saying he was very delightful, friendly and playful. They didn't understand why he was still there. He had been their hardest sale, and longest tenant. I asked to hold him. I rolled him over on his back in my lap to see how calm he was, and he let me. I turned him over and he gently climbed up my chest, snuggled in my chin and kissed me with his whiskers. His eyes were elegantly shaped, brown and bright. There were so bright! In my heart he spoke to me. That was it; we were mates. I took him immediately to the Vet, who told me he was an Occicat. Which he said, was a wonderful breed.
After he was with me a week, I finally "found" his name. It was "Lucky!" I had tried all my usual esoteric names, but he was something much more real. He loved interaction, communication and physical contact. He was fun! Quan Yin had been a very gentle, refined and aloof cat. I respected her and had accepted her. We loved each other very much at a distance. With all the changes in my life, I realized that fun and play and closeness were now necessary and healing for me.
Ten days after Quan Yin disappeared, she was found by a neighbor. She was very weak. I picked her up, so thrilled that she was alive and took her home. I joyfully introduced her to Lucky and she came immediately and totally alive! Who was this intruder in her domain?! He understood it to be his domain, she understood it to be hers. Now, here was a diplomatic challenge. All my years in the world of diplomacy and psychology and I didn't know what to do. I called Carol Guerney, a famous animal "communicator" in the country. She came over to "counsel" them. She said Quan Yin felt her purpose was usurped by Lucky's presence. Her purpose had been me, and me alone, and she was not interested in sharing. She only wished Lucky's stripes would fall off! Lucky, on the other hand, felt she was the one with the problem and she had to get over it.
Carol gave Lucky two jobs, or "purposes", in being with me. One was to keep the home free of flies and bugs, and the other was to stay very close to me physically and allow me all the hugs and kisses I wanted. Quan Yin reluctantly accepted that her new purpose was to simply be a serene and quiet presence and that this was absolutely a contribution to me. I dearly love Quan Yin. Lucky, however, has become my little animal "talisman". He ruthlessly stalks all flies and bugs and joyfully eliminates them. He plays, he talks, and is never more than a few feet away. The joy and friendship and spirit he displays has been a gift to me. He has taught me what a gift it is to give trust.
Lucky has been in Vogue magazine, Garden magazine and on 48 Hours, where he was seen being treated by an alternative Vet. I even named my computer's hard drive after him. I'm quite sure, in my fantasies, that Lucky Jeans was named after him. Since Lucky has entered my life, so have wonderful people and events. Of course I'm sure he had something to do with it.