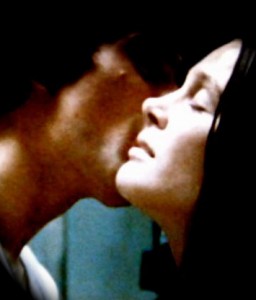 By early April of 1971, I had moved to Santa Fe, New Mexico with my two year old son and had pretty much, in my mind, left my work and life in Hollywood. I had released my press agent, my nanny, my assistant, and I tenuously kept my agent and accountant. I was unsure of everything in my life as I had known it. I was 25, my marriage to Ryan O'Neal had shattered over his public affair with Barbara Streisand. This spontaneous move to Santa Fe was the only way I knew to find a new life. However, I had not only left him, I basically chose to leave everything I had created, including a successful career.
In the early summer of 1971, I got a call from my primary agent at CMA (who later became my second husband) and accepted , with his urging, a movie soon to be made in New York City, called The Gang That Couldn't Shoot Straight. It was a black comedy written by Waldo Salt from the original book by Jimmy Breslin. It would be starring a new young actor opposite me, named Robert De Niro. I took the job on faith to keep myself busy. I would be playing an Italian girl from Brooklyn, with a Brooklyn accent. They asked me to gain 15 pounds, dye my hair black, and learn the accent "fluently". This panicked me. I had a good ear for sound, but no confidence with accents.
Rehearsals began at the Stanhope Hotel with director James Goldstone and "Bobby". During the nights, I would be working on my accent. I remember the first day De Niro and I met. He came into rehearsal seemingly very ordinary, quiet and "mumbly" and with a very endearing sweet, shy way about him. His eyes didn't make direct contact for very long. The three of us creatively discussed the film, our characters, and their relationship, which was a love affair between a young con-man fresh from Italy with kleptomania as his natural instinct, and a tough vulnerable girl from Brooklyn, the younger sister of a Mafia leader.
One experience during rehearsals was especially memorable. Bobby's Italian accent was impeccable almost immediately. I was struggling. At the start of the second week of rehearsal, the director asked us to leave the hotel in character, accents included, and spend the day with my character introducing his character all around New York, as if he had just arrived from Italy. We were to be spontaneous, take the bus, and go wherever, as long as we never stepped out of character. I was a bit horrified, because I was now aware I was working with a great talent who had a perfect accent, and I felt I didn't have a clue yet about my character, let alone a proper Brooklyn accent.
Off we went on the Fifth Avenue bus. We got off near the Empire State Building. I was stone silent for almost the whole ride, for fear of demonstrating my ineptitude. Slowly as we walked west toward Macy's I plunged into behavior that began to feed my sense of this girl, and my terror eased.  We walked into Macy's, I now leading the way with a quality of my character's sweet toughness. We looked around the first floor, talked in character, and walked out. I quickly felt a hand grab me. I turned and a very big man had one hand on me and his other hand grabbed Bobby. He opened Bobby's jacket and two new shirts fell out. We were pushed back into Macy's, up the elevator to a floor that was nothing but a jail!  He was not at all interested in the fact that we were actors rehearsing a film.  As far as he was concerned we were partners in crime and he arrested us.
I was amazed to see Bobby's response to all of this, with him being a true New Yorker.  As a native New Yorker, he knew enough to be scared.  I could afford by joyous naïveté, having grown up in safe rural environments.  I was admittedly  in absolute joy at the adventure and I trusted that it would resolve perfectly.  In the mean time, I was going to enjoy every outrageous moment.  I was searched, fingerprinted, and booked.  We were on the way into their jail, when one of them, after studying my credit cards, license and the papers in my wallet, recognized me from Peyton Place.  Suddenly it all changed and I was faced with fans, not tough "dicks".  Our producers were called and we were soon released.
In the summer of 1971, I had many fascinating experiences making this film, including having a tempestuous relationship with Bobby.  I also spent my spare time with Andy Warhol, his entourage, meeting and hanging out some with Patti Smith and Sam Shepard.  It was a sad time, a creative time, and a very freeing time.  It proved not to be a great movie.  De Niro was great, I was very good, and my life was profoundly enriched.
 
 
The Gang That Couldn't Shoot Straight on IMDB